My personal background and history has its foundation in technology and machine logic, coupled with a symbiotic, often paradoxical, concern with the perceived disparate disciplines of Art and Science. Themes are manifest in terms of a relationship between the organic/inorganic, the artificial/natural and the real/virtual. The work may be construed as empiric prototypes to describe or extend a consciousness of time in a numinous, personal way. The concept of interval as a lapse in time, or as a practical division in terms of proportion, is inherent in my output.
A considerable element of process goes into my practice, particularly with reference to installations. The templates, jigs and instruments required in the production of the work have an importance in their own right. They record the nodal thinking punctuations as the work develops.
I use drawing not only to illustrate but also as means to discuss, externalise and examine an idea. A graphic link may be extended to the drawing engines (Cartoon Time). Instigated by drawing, the time base elucidated by these machines, using the geometry of mechanical logic, produces images pertinent to the inherent ratios and anachronisms within the structure. The end result, however, may be considered to be organic.
My sources and influences are many and varied, notwithstanding the landscape itself. The researches of Professor Eric Laithwaite, the surveys of Professor Alexander Thom and the spatial extrapolations of Keith Kritchlow are profoundly stimulating, as are the scientific, alchemical and metaphysical speculations of Ctebibius, Paracellsus, Alhazad and the 'magnetic flux' experiments of Faraday.
Thus my work is constructed from materials such as copper, brass and leather and organic compounds, as utilised by early scientists. Numerical measurement is dispensed with; instead, the execution and construction is governed by geometric proportion and affiliated division. Each statement involves a system only pertinent and definitive to itself. However, the archaic ratios between the microcosm and the macrocosm, which have been the fundus of a lifetime of research, will always inform the work.
The output, in whatever form, as always, will be underpinned and discussed with drawing.
It will always be an intuitive adventure.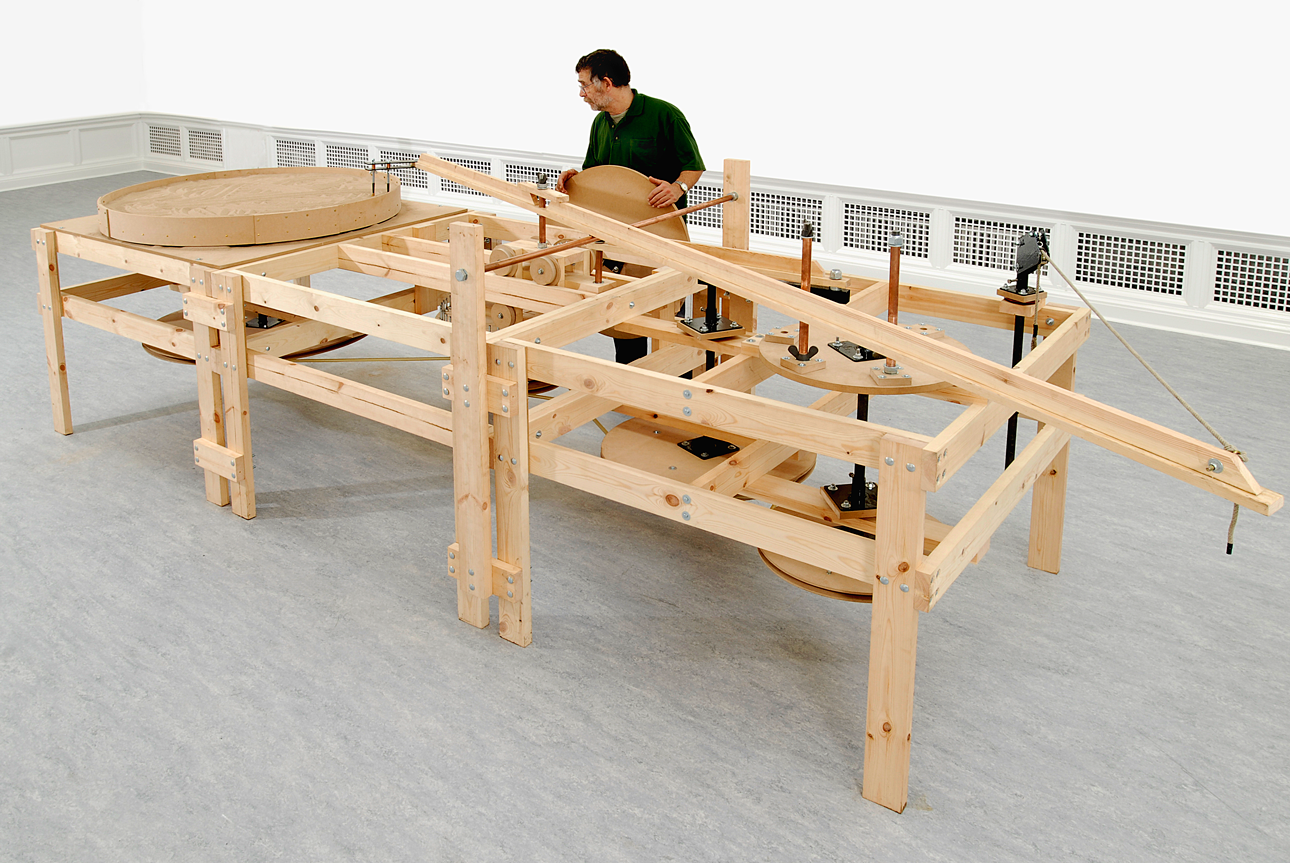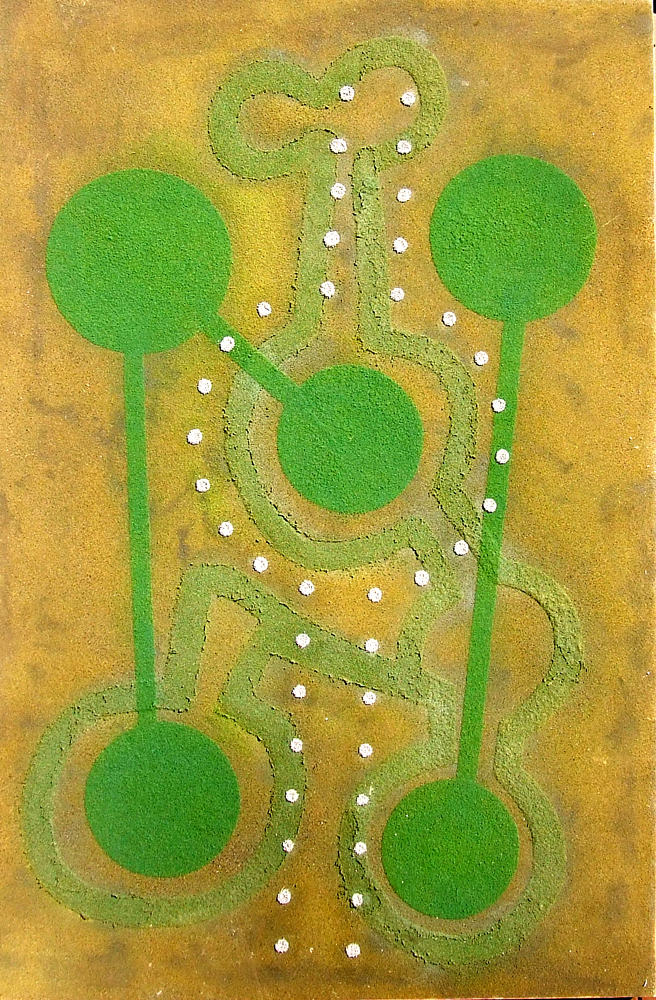 Academic Background
1969 Honours Degree in Industrial Design, Leeds
1971 to 1976
Senior Technician Farnham School of Art. Demonstrator.
Specialist lecturer Portsmouth College of Art.
Workshops at Carlisle College of Art
1980 to 1997: Cleveland College of Art
1980-1981 Specialist lecturer 3D
1981-1983 Course tutor 3D design
1983-1986 Course leader General Art and Design
1987-1990 Joint course leader Foundation
1991-1993 Course leader part time Fine Art degree (Sunderland franchise)
Seconded to The Art Acadamie Tilburg Holland.
1993-1997 Course leader full time Fine Art degree (Sculpture and mixed media) Part of team responsible for general educational monitoring, assessment and new advanced course development.
Delegate to several conferences on higher level creative education.
1997 to 2003: University of Teesside
Part time tutor, props and special effects (theatre/entertainment degree)
Part time lecturer, specialising in Drawing and Creative Animation
Guest and Visiting Lectureships
Kingston on Thames University
University of Sussex
University of Leeds
Wolverhampton University
Sunderland University
Teesside University
Fine Art Academie  Tilburg Holland
Awards
Northern Arts Visual award (4)
Arts Express Sculpture (Lottery GB)
Green Housing award
Civic Trust Award
Dumfries and Galloway Visual Arts Award (2)
BTEC Assessor and Verifier award (moderation)
Graduate of Common Purpose Cleveland
BA Honours, Leeds.
Workshops
Redbridge
Brighton
Stockton
Middlesbrough
Darlington
Saltburn
Dumfries
Solo Exhibitions
Northern Arts Gallery Newcastle
Carlisle Museum and Art Gallery (Tullie House)
LYC Gallery Brampton
Bongate gallery Appleby
Maritime Museum Maryport.
Saltburn Artist Gallery
Gardner Arts Centre Sussex
Q Arts Centre Derby.
Craven Museum Skipton
Gracefield Arts Centre Gallery Dumfries
Unit Three gallery Bladnoch
Animex exhibition Middlesbrough.
Group Exhibitions
Leeds University Gallery
Paris International Design Biennale
Leeds Civic gallery
Farnham Institute Gallery (3)
Acme Gallery London
Bongate Gallery Appleby
Community gallery Whithorn
Saltburn artists gallery.
Durham University Gallery
Voltaire Gallery London
Cleveland Gallery Middlesbrough (3)
Portsmouth City Art Gallery
Stockton Festival.
Bath Festival
Zwaan Gallery Den Bosch Holland.
My work can be seen at the MAD Museum Stratford on Avon