Kinetic art contains moving parts or depends on motion for its effect. The moving parts are generally powered by wind, a motor or the observer.
The term kinetic sculpture refers to a form of art made primarily from the late 1950s through 1960s. The emergence in France, Germany and Holland in the fourteenth century of weight-driven moving devices associated with public clocks led to the great mechanical wonders produced by Automata makers such as Maillardet, Theroude and Vichy in nineteenth century Europe. Gyroscopic, spring- powered clockwork and optical toys became extremely popular. Industrial techniques and batch production made such items available to a wider public, these pieces nowadays are very collectible.
Kinetic art was first recorded by the sculptors Naum Gabo and Antoine Pevsner in their Realist Manifesto issued as part of a manifesto of constructivism in 1920 in Moscow.
"Bicycle Wheel," of 1913, by Marcel Duchamp, is said to be the first kinetic sculpture in modern times (although the Ancient Egyptians were no strangers to articulated devices, which they incorporated into everyday life – as did the Greeks and Romans). In the 1920s the Eastern European artists Naum Gabo and Laszlo Moholy-Nagy began to experiment with kinetic sculpture that resembled machines.
Shortly thereafter the American, Alexander Calder, invented the mobile, consisting of a delicately balanced wire armature from which sculptural elements are suspended.
Kinetic work in Britain can be seen at The MAD Museum in Stratford Upon Avon.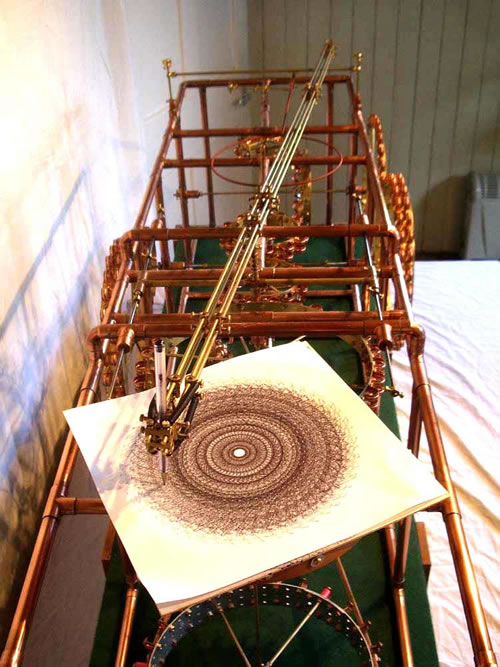 Examples of my kinetic art